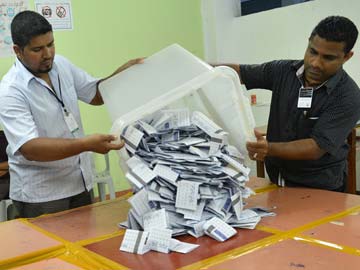 AFP
New York:
UN leader Ban Ki-moon is "gravely concerned" by the suspension of a presidential runoff vote in the Maldives due to be held on Sunday, a spokesman said.
Ban wants the vote held in the Indian Ocean nation without further delay, said the UN spokesman Martin Nesirky.
The Maldives Supreme Court postponed the vote a few hours before it was due to start.
Mohamed Nasheed, the country's first democratically elected leader who was ousted in February 2012, accused the court of delaying the election to block his return to power. Nasheed won almost 47 percent of the vote in Saturday's first round and seemed set to return to office.
Ban feels that the first round was "peaceful and transparent," his spokesman said.
"Nonetheless, the secretary general is gravely concerned at the decision to delay the second round scheduled for November 10.
"He urgently calls on all political actors and state institutions to show restraint, to respect the legitimate will of the people expressed in the election on November 9, and to conclude the presidential election process without further delay in the best interest of the Maldivian people," said Nesirky.
Ban offered UN political support to overcome the crisis.